Urban Planning Guru on City of Innovation
---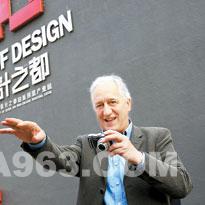 (News from Shenzhen Daily)
THE future success of Shenzhen depends on increasing its value-added activities in the design industry, Charles Landry said during a speech held at Shenzhen Library yesterday.
"Shenzhen is facing a transforming period from a city of production to a city of creativity because increasing costs have blunted the city's advantage as a production city in the world," said Landry, 61, a U.K. designer who has worked on several hundred projects and given more than 200 talks in 45 countries in every stage of development.
Invited by the Shenzhen Creative Culture Center, Landry has been in Shenzhen since Monday and has been offering advice to the city about developing as a newly designated City of Design.
"Shenzhen is very surprising," he said. "Making a city out of nothing is an act of creativity. However, as a creative city, Shenzhen should pay attention not only to hardware but also software, such as networking."
Landry said he believes education and talent are the two most significant elements for a creative city, so Shenzhen should enhance its educational infrastructure and think about what kind of environment could attract design talent to work in the city.
Many creative cities in the world, such as Seoul in South Korea and Hamburg in Germany, have set good examples, and Shenzhen could develop a distinctive creativity by rethinking its role locally, Landry said.
Apart from suggestions for Shenzhen's future, Landry also talked about the trends in creative cities in the world.
Landry summarized four ways of looking at creative cities. First, a creative city has strong arts and sense of its heritage; today's classic was yesterday's innovation. Second, a creative city is synonymous with a creative economy, and Shenzhen must consider how its economy can be strengthened in a way that bonds it with the arts. Third, a creative city has a strong creative class, including designers, artists and knowledge workers in different fields. Last, a creative city has an embedded culture of imagination where everyone is potentially creative.
Landry said creativity can manifest itself in the social, ecological and administrative fields. A creative city provides conditions for ordinary people to think, plan and act with imagination.
Hundreds attended the speech, most of whom were designers from Shenzhen, Shanghai and Guangzhou, according to the organizer, the Shenzhen Creative Culture Center.
---